In addition to your own site you can also sell products on eBay, Amazon and many other sites like them. We will help you setup your own seller accounts on these sites and will teach you how to add, edit or delete products right from your own computer from anywhere.
If you have a lot of products to sell online, you must consider selling them not only on your own website using an ecommerce platform such as the ones listed at the bottom of this page, you also have to publish your products on Amazon and eBay which are the most visited eCommerce sites. Getting your products listed on Amazon and eBay is really not that hard but to be able to sell them on these websites requires a lot of know how and experience.  That is where we can help you. We have been teaching businesses how to become successful sellers on Amazon and eBay since 2000.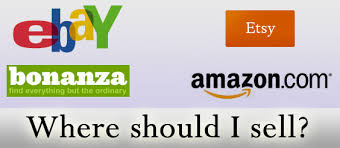 Most retailers don't know this but there are at least 10 other websites that you can showcase your products on them to sell them to a large number of customers who visit these sites. Some of these sites are:  TrueGether
Rakuten
Newegg
Bonanza
eBid
In addition to above websites, you can also sell your products on giant social media websites such as Facebook, Instagram and Youtube.  You can spend countless hours and learn how to sell on these sites or hire our experienced staff for a small monthly fee and let us do the work for you. It is really a small investment on your part to sell your products to customers nationwide or globally.
Comtek offers free phone consultation to all businesses who are considering establishing a presence online. Our consultation sessions are very relaxed and you will learn a lot about online selling and do's and don'ts of selling online.

e-commerce website design using Magento | e-commerce website design using Joomla | e-commerce website design using Miva Merchant | e-commerce website design using BigCommerce