A Video Spokesperson gives your website the added edge of modern techniques that catch your site visitors' ears and eyes. Through our website spokesperson or website greeters, we give you the tools and marketing skills that your site and business can rely on.
What Is A Website Spokesperson?
What is a website spokesperson otherwise known as a website actor? A website spokesperson is a person who walks out onto your website capturing the attention of your visitor and delivering your message the exact way you intend for it to be delivered. Most of our clients report an average increase in conversions of around 400% and report that visitors stay on their website around 3 times longer which can significantly reduce your website bounce rate and this can vastly improve your websites search engine placement. It is like employing a virtual sales agent who can reach out from behind the computer and engage your audience.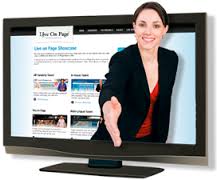 How Does It Work?
We have made the whole process very easy for our clients. First we help you write a short script explaining your product, services or whatever message you want your website spokesperson to tell site visitors.  Then you will choose your desired spokesperson from a catalog of about 50 talented models which we will show you.  Finally you decide the length of the video for your website. That's really all there is to it. Using a secure form, you will submit your payment and we will do the rest.  Within 7 days, we will invite the actor you chose to our studio and will video him/her while he/she is reading your script off of a tele-prompter.  Our videographics will then convert the video into a format that can be played back on your website. We will give you the completed video and instruction to give to your webmaster to install it on your site, or we can install it for free.
How Much Does It Cost?
The cost depends on the length of the video spokesperson you need and the total number of videos you may need for your website. Our pricing below includes everything you need to have your own video spokesperson installed on your site:
Prices (One-Time Fee | No Monthly Fee | No Hosting Fee)
30 seconds (up to 90 words): $350
60 seconds (up to 150 words) $450
Multiple videos qualify for big discounts. Use the form above to email us your requirements and we will get back to you with the best price quickly. Keep in mind, we will also install your video for free and if you go with us, we will also submit your video to youtube to help your website marketing (a $50 service).
If you are interested in having your own website spokesperson, please contact us today and we will be glad to answer all your questions.