[et_pb_section admin_label="section"][et_pb_row admin_label="row"][et_pb_column type="4_4″][et_pb_text admin_label="Text" background_layout="light" text_orientation="left" use_border_color="off" border_color="#ffffff" border_style="solid"]
What Is A Digital Signage?
When people say "digital signage systems" or "electronic signage", they're talking about digital displays used to inform and persuade, and it's popping up in public spaces all over the world. Retailers and transit systems using digital signage system are increasingly common, and every day more and more campuses, government institutions and corporations are finding their own ways to benefit from this increasingly affordable technology. (download full document)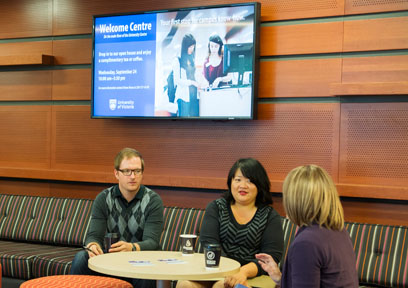 Who Needs A Digital Signage?
Digital signage not only informs and engages more people through creative presentation, but also reaches them instantly and reliably – and messages can be updated or retired in real-time. It is a modern approach to corporate communications that draws in viewers with bright, animated graphics and interactivity.
These tools also improve your emergency preparedness by giving you a powerful and flexible tool to deliver security and weather alerts speedily. No matter how detailed or from what source, messages can be distributed in seconds.
How Much Does A Digital Signage System Costs?
The cost of digital signage can vary, depending on your needs. We offer a range of pricing options from monthly hosted fees to building and campus packages, enterprise site licenses to a la carte pricing. Your price will depend on the number of licenses you need and whether or not you take advantage of our affordable services and support options. We're happy to provide a quote for you and answer specific technical questions.
[/et_pb_text][et_pb_accordion admin_label="Accordion" open_toggle_background_color="rgba(232,232,232,0.42)" open_toggle_text_color="#000000″ closed_toggle_background_color="rgba(12,113,195,0.45)" icon_color="#c4564e" use_border_color="off" border_color="#ffffff" border_style="solid"] [et_pb_accordion_item title="What are the benefits of having a digital signage system?"]
To communicate with people, you have to get their attention. Watching TV and using computers has trained us to look at screens for information, so digital signage is a natural choice for reaching large audiences. It's also better than email, printed posters, and bulletin boards because:
You can deliver breaking news in real-time
Screens are bright and show motion
You can have multiple things on a screen at once
You can change what's on the screen throughout the day
It's cheaper than print for big audiences
It's better than print for green reasons
Each reason for communicating will have its own benefits:
To compel – student organizations and activities, benefits enrollment, charity drives
To inform – new policies at work, classes and training dates, wayfinding and directories, weather and news
To motivate – recognition and reward programs, stock prices and profit-sharing schemes, internal contests
To include – welcome messages, new hire and birthday announcements, community and social activities
To recognize – organization and individual achievements, safety benchmarks, sports teams stats
To warn – severe weather, fire and other emergencies, security threats
[/et_pb_accordion_item][et_pb_accordion_item title="Why choose Comtek over other digital signage providers?"]
Comtek is an authorize dealer and distributor of one of the most successful digital signage companies in USA.  As a digital signage consultant and solution provider, we will find you the best digital signage system that will work for you from day one.  We will find, install and support you through the whole process.
Comtek digital signage software allows you to create, import and manage your messages, alerts and media; schedule those messages to appear on the displays or portable devices that you select; and deliver them to your audience within minutes.
Unlike other digital signage providers, at Comtek, we concentrate on organizational communications. We don't dumb down retail or advertising software – we build our products with campuses and businesses in mind – whether you're driving a single screen or need enterprise-level communications across your organization. We also believe in making digital signage as easy as possible for our clients. Our software offers the industry's friendliest user interface with straight-forward and intuitive navigation, and all of our products and services are built to help make your communications more efficient and effective:
Feature-rich software applications
Browser-based, user-friendly interface
Animated templates and coordinated themes
Affordable, attractive interactive wayfinding
CAP-compliant alert notifications
Dedicated consulting and creative services
Easy implementation and training
Superior support agreements
Power over Ethernet room signs
RSS and desktop delivery
Enterprise scalability
Competitive pricing
Over 30 years of experience
Dedicated to 100% customer satisfaction
Contact us for a free consultation about digital signage systems and how it can enhance your business for an unbelievable low cost.
[/et_pb_accordion_item][et_pb_accordion_item title="What kind of content can I show on my digital signage?"]
All of our digital signage software let's you create beautiful content within the application or leverage existing media and skill sets by importing popular file formats:
Text and graphics
Video and Flash with audio
PowerPoint
Event schedules
Interactive wayfinding and directories
Weather, news and stock updates
Alert notifications
Web pages
Polls, surveys and contests
Cable feeds and streaming
Social media and other RSS feeds
…and more
You can also use interactive digital signage for way-finding maps and directories, menu boards, queuing systems, donor boards and more. If you need assistance creating or supplementing your content to keep communications fresh, our digital signage content designers can help.
[/et_pb_accordion_item][et_pb_accordion_item title="Are we limited to the number of displays we can use?"]
The short answer is no, there is no limit. The number of displays you can support is only limited by the software application you purchase and the number of media players you use.
Our AxisTV digital signage software is available in three scalable applications – Standard, Professional and Enterprise. Standard can support three channel players, Professional up to 75 channel players with optional licenses, and Enterprise up to 4,000 channel players with optional licenses. Because our software is browser-based, as many people as you want can create and manage content.
The output of any media player can be distributed to practically any number of displays through signal distribution amplifiers, switchers, routers, transmitters and receivers, or cable systems. Our publishers allow you to push content to desktops and RSS readers, adding endpoints without player hardware.
[/et_pb_accordion_item][et_pb_accordion_item title="How long does it take me to learn the system?"]
After just two hours of online training, you'll be able to create, import and schedule content and manage your media libraries and playlists. Another two hours shows you how to create beautiful templates and layouts, and our final two hours of standardized training teaches you how to create user roles, configure system settings and perform other administrative tasks. That's less than one work day to learn our software!
We also offer on-site and custom training sessions to focus on your particular areas of interest.
[/et_pb_accordion_item] [/et_pb_accordion][/et_pb_column][/et_pb_row][/et_pb_section]